Community
MRG Donates Warehouse Space for AFYA Foundation
October 7, 2020
back to all news
Metropolitan Realty Group, through its managing member and founder Scott Jaffee, has had a relationship with Afya Foundation since 2019, when both organizations participated in aid to the Bahamas following the devastation of Hurricane Dorian.

Afya is focused on sustainably sourcing unused medical supplies and delivering them where needed to underserved health systems all over the world. Since 2009, Afya has delivered over 3 million pounds of medical supplies to communities in over 83 countries. Afya invites medical professionals to submit requests for needed medical equipment, then provides the materials at significantly reduced cost.

As the coronavirus crisis reached pandemic proportions in early 2020, Afya solicited donations of critically needed supplies. MRG donated warehouse space for Afya to store donated medical supplies and PPE from hospitals in the tri-state area. Thanks to the donated space, Afya was able to deliver over 2 million pieces of PPE to 165 sites in New York State and other locations all over the world.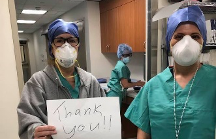 The Greater New York area is still in need of Afya's services. Please contact Afya if you can donate any of the needed supplies:

Masks (all types) and N95
Face Shields
Goggles/Eye protection
Procedure Gloves
Disposable Gowns and Coveralls
Disinfectant Wipes and Hand Sanitizer
Afya also supports those interested in creating an individual fundraiser to share with your network:

A marathon, read-a-thon, or bike-a-thon with your family
An online event such as a webinar, yoga class, or dance party
Selling goods with the profit going to Afya
Any other creative fundraising initiative
Your support is greatly appreciated! Visit https://afyafoundation.org/covid-19/
for more information.