Community
Supporting Youth During the COVID-19 Pandemic with the International Sports and Music Project
August 12, 2020
back to all news
Although Metropolitan Realty Group has a local focus, our responsibility is global. The coronavirus pandemic affects communities all over the world in different ways, and our existing community development relationships provide us opportunities to help those communities most acutely affected.

The International Sports and Music Project (ISMP) is a nonprofit that provides access to sports and music programming in shelters, refugee camps, orphanages, and other vulnerable communities around the world to improve mental health. MRG's partnership with ISMP began in 2018, and since then, we have:

Partnered in the construction of sports facilities in Uganda
Assisted in the establishment of an ISMP office in Brooklyn
Contributed to basketball clinics and guitar lessons for homeless teens in NYC
Supported numerous sports and music programs in several countries across the globe
As the effects of the coronavirus pandemic spread across the world, our philanthropic partners, including ISMP, saw new areas of need outside of their typical activities. In Rwanda and Uganda, the economic effects have hit children and families particularly hard, creating a hunger crisis. In connection with local schools, shelters, and NGOs, we worked with ISMP to organize an emergency food bank and provide over 1000 teachers, students, and families with sorely needed foodstuffs.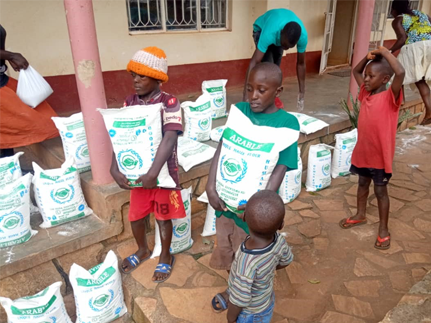 For marginalized refugee communities in Greece, ISMP was able to continue local partners' music instruction by moving classes online.

Moving closer to home, in the US, ISMP partnered with nursing homes and assisted living facilities to provide isolated at-risk residents with personalized videos with musical accompaniment. ISMP also has a close relationship with Covenant House, a homeless shelter for teens, in NYC. We worked with ISMP to provide books, art supplies, and sports equipment to Covenant House to give residents artistic and fitness outlets while in-person music lessons are on pause.

Even though much of ISMP's typical activities are unavailable due to COVID-19, thanks to our connections with the community, we are able to have an immediate impact on people with great need. We will continue to hold ourselves to the highest sanitary and health standards in the buildings we operate while giving back to communities where we can have considerable impact, all with the help of our community partners.
See how you can offer support by visiting https://ismproject.org/