Heat Season/System Notice
March 13, 2023
back to all notices
ATTENTION RESIDENTS

As we are in the middle of the heating season, we are seeing that some residents are questioning the level of the heat in their apartments. We wanted to inform you as to why this may be happening and assure all tenants that we are providing the legally required level of heat to everyone.

We recently installed a new automatic heat monitoring system into many buildings. This system monitors how hot it is in various locations throughout the property, including inside apartments. Depending on the data that is collected, the system will turn up or
turn down the boilers so that the proper amount of heat is always supplied throughout the building and also so that the building is not overheated as well. This system is an important part of keeping the properties energy efficient and complying with the various
"green" requirements that are being passed at the federal, state, city and local levels.

Again, this system automatically regulates the heat throughout the entire building to ensure that the proper amount of heat is provided to all apartments and all common areas without wasting energy. The new system ensures that the legally required temperatures are always maintained: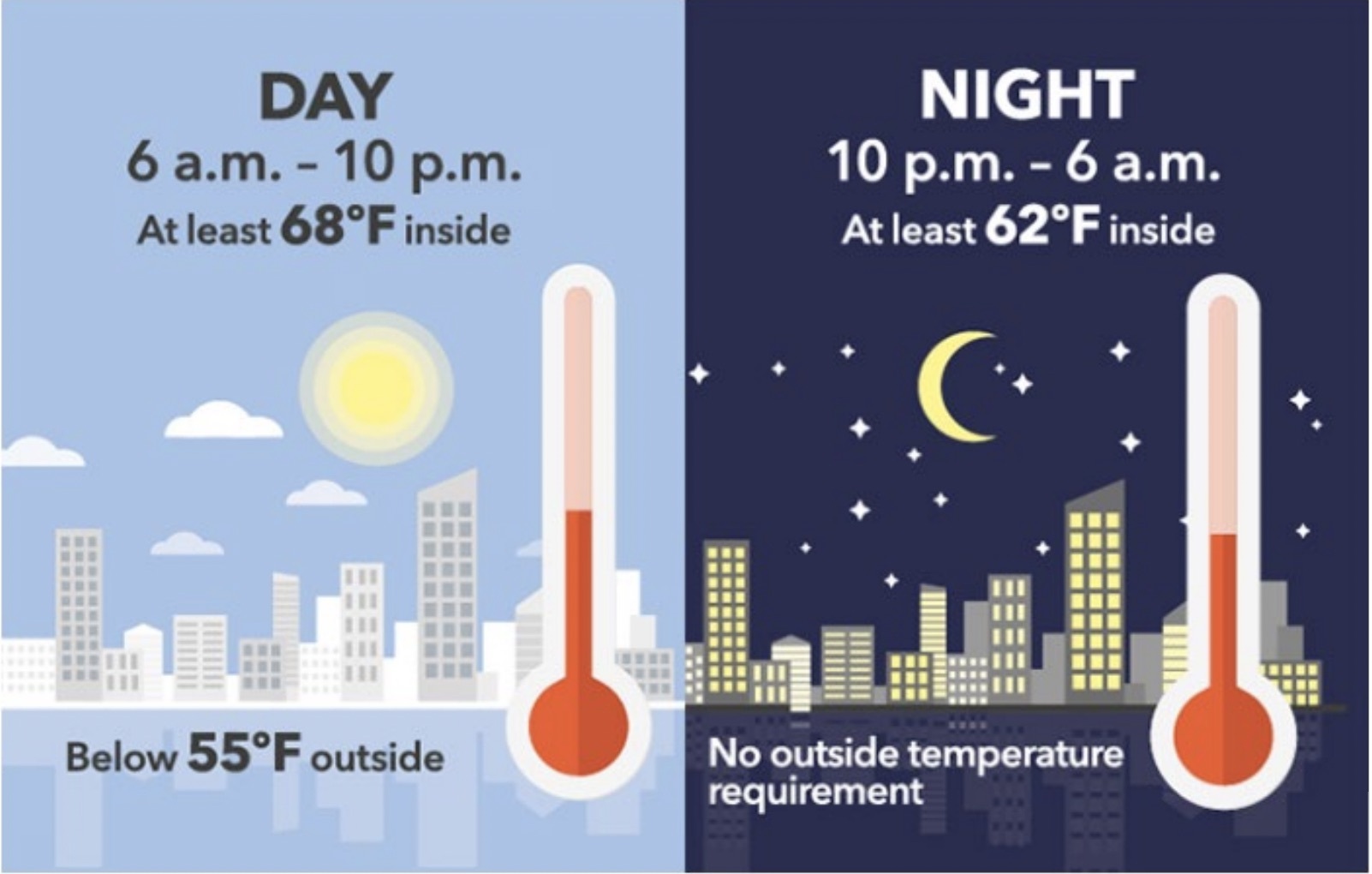 We believe that some tenants are claiming that they are not getting enough heat because they were used to having their apartments overheated. Many of these tenants did not have the sleeves or covers on the air conditioning units or had windows slightly opened, or had their ovens open and on, etc., so once the heat was properly regulated, they felt this cold and thought it was the heating system. It is not.
If you do make a heat complaint, please make sure to give our staff immediate access to your apartment. They will take the temperature throughout the apartment and will take pictures. Please allow them to do so. Any appropriate actions will be taken to make sure the required temperatures exist at the property.
In order not to have an issue in your apartment, you must also check to see if any of these conditions exist in your apartment and have them addressed:
A/C unit needs to be removed or A/C sleeve/cover needs to be put on
Windows are opened and need to be fully closed
Crack or leak in window needs to be repaired
Window not closing or opening properly
To submit a work order, tenants should notify their site office, use the "For Tenants" tab on the MRG website to submit a work order: www.metreal.com, or contact the 24/7 emergency line at 212-835-9040. Maintenance staff will arrive and inspect for the repairs requested, noting any areas or conditions that need repairs or other services, and taking photos of the areas that need to be addressed.
Finally, we remind all tenants that it is illegal to have any additional appliances in the unit, including hot plates and space heaters for the safety of your household and all tenants of your building. These devices far too often malfunction and cause fires.
Also, using a space heater or the oven to heat or apartment will only cause the automatically monitoring system to believe it is too hot in your apartment and will tell the heating system to lower or turn off. It will create a false reading and adversely affect the entire building.
Your cooperation is greatly appreciated to help us continue to have the heating system work properly and efficiently.
Please do not hesitate to contact the site office or main office if you have any questions.
MANAGEMENT