How MRG Helps Communities Thrive
June 29, 2022
back to all news
Over the years, our founder Scott Jaffee has worked tirelessly to establish college readiness, financial literacy, and application assistance programs for families that live in MRG buildings and their surrounding areas. It's a big part of
why we love what we do at MRG.


MRG believes that in order for
communities to thrive
, beyond feeling secure, there is also a need for educational assistance. Education helps individuals who live in our properties plan a brighter future and achieve long-term goals no matter the focus, whether the most significant impact on their lives would be higher social status, professional success, financial stability, or family stability.
The crossover of these benefits is why we focus our philanthropic efforts on this sector. The reality of our world is that we all start at different points in life, with different advantages and disadvantages. MRG's mission is to lessen the impact that reality has on quality of life and empower our residents to enrich their lives. One way we do that is by providing quality resources to those in need.


Scott Jaffee's philanthropic work is guided by his heritage and personal experiences. Rather than starting another charity, he has partnered with existing organizations with tremendous potential to have a lasting impact on the lives of those they serve. Scott is active as a leading executive or board member in many charities including Abba Leadership, International Sports and Music Project, Dr. Richard Barnett Foundation, UJA (and many different agencies affiliated with UJA Federation of New York), Riverside Hawks, the Henry Kaufmann Campgrounds (president), and Bedford Stuyvesant Restoration Corporation.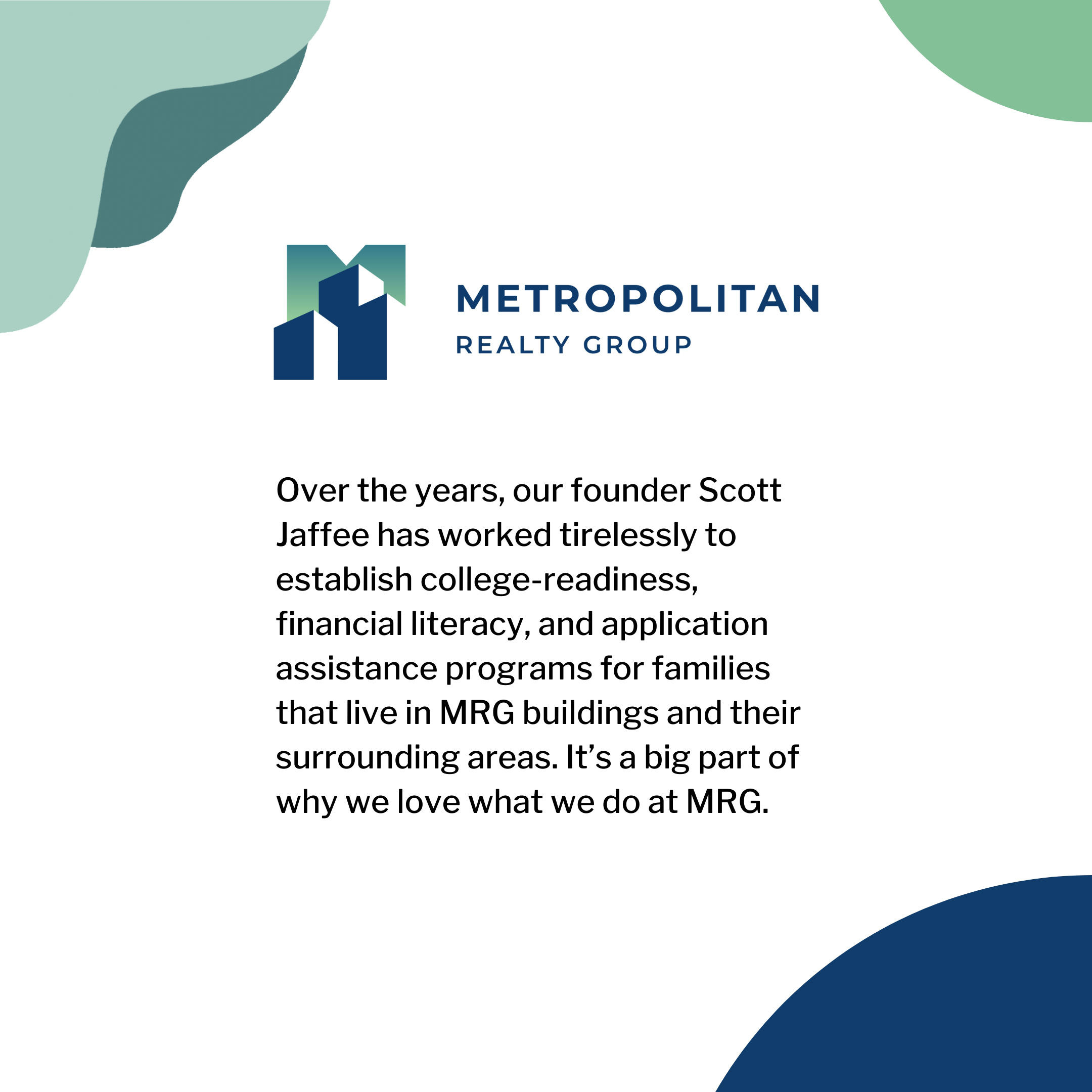 Scott is also on the Dean's List Advisory Committee at the University of Miami, where he contributes to the growth of students. He is also an active scholarship sponsor for St. Mary's High School, as well as students who are part of the Riverside Hawks program.
Most recently, Scott partnered with the initial cohort of the Dr. Richard Barnett Foundation to help students navigate the path to college. Since 2013, his efforts have helped over 500 students, passing on the same value set and push for self-advocacy that he was fortunate to inherit himself.
"I enjoy and appreciate every step that we take. In the affordable housing world, I'm redeveloping. We strive to build safe and secure places where people can enjoy living. If we can provide something for individuals that they can't normally get, that to me is a success. MRG strives to help these individuals live a good life, too". Scott added.
MRG is proud to be of service to its residents and the surrounding community through as many lenses as possible. We have found promoting education is the most direct way to affect a long-standing improvement in trajectory for our communities and are continually exploring and taking on new opportunities in this area.

This area of focus is more than rewarding for us. Moments like the letter below from St. Mary's High School are incredibly fulfilling and inspire us to continue even further on this path.