Apartment Building Emergency Preparedness
May 20, 2022
back to all notices
NEW CLOSE THE DOOR NOTICE!
You should be seeing one of these new
Close the Door Notices
on stairwell doors in your building: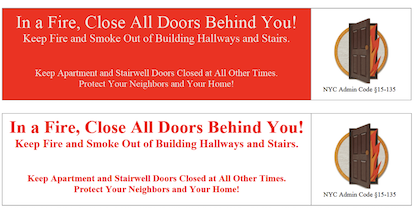 This notice is meant to remind you to close all doors behind you when evacuating your apartment and floor in a fire. Why is this important? A closed-door contains the fire in the apartment and keeps the public hallways clear of flames, heat and smoke long enough to allow others to get out and firefighters to get in.
Apartment and stairwell doors should be kept closed at all other times just in case.
Every New York City apartment should have one of these Fire Safety Notices (they are different) on the inside of the main entrance door: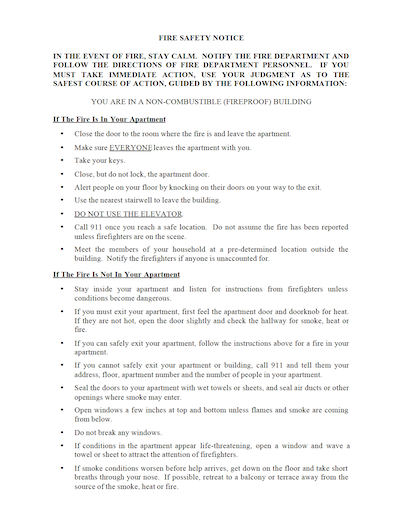 Download here
Why is this important? The notice informs you about the type of building construction and whether to leave (evacuate) your apartment or stay (shelter in place) in the event of fire. This information is also in the NYC Apartment Building Emergency Preparedness Guide but you won't remember or have time to look for it when you smell smoke in the hallway.
A fire safety notice on your door has been required for 20 years. Make sure it's there! It's not pretty but it could save your life.
Be fire smart and fire safe. Don't forget the top 7 fire safety tips! They're posted on www.nyc.gov/fdny (under Fire Code Rules).
________________________
APARTMENT BUILDING EMERGENCY PREPAREDNESS
STAY INFORMED AND BE PREPARED!
Inform yourself about emergency preparedness.

Fire Safety Notice: Read the Fire Safety Notice on the back of your apartment door (see above paragraph).
NYC Apartment Building Emergency Preparedness Guide. Read the Guide, including the Building Information about your building!

Prepare an individual evacuation plan. Use the new Emergency Preparedness/Evacuation Planning Checklist (see below) to make sure you have all the facts you will need to decide whether and how to leave your building in an emergency. For example, do you know the location of all of the stairwells in your building and where they go?

Talk about emergency preparedness. Is your building ready for an emergency? Have a discussion with building management and your neighbors

Stay informed. Notify NYC is the City's official source of information about emergency situations. Sign up at NYC.gov/notifynyc or by calling 311.
________________________
NEW EMERGENCY PREPAREDNESS/ EVACUATION PLANNING CHECKLIST!
You should have received from the building owner/manager a short 4-page checklist to help you prepare your own emergency plan. When should you stay and when should you leave your apartment in a fire/emergency? This form will help you identify the relevant building design and fire safety features, and guide you through the issues you may encounter, especially if you will need assistance in exiting the building when it is not safe to use the elevator.
View the checklist
here
!
________________________
NEW (OR COMING SOON) HURRICANE EVACUATION ZONE NOTICES!
Coastal storms cause life-threatening storm surges, flooding, high wind conditions and utility disruptions. Hurricanes alone have caused more than 200 deaths in New York City over the last century.

If you're in a flood-prone area, you should soon see one of these colorful Hurricane Evacuation Zone notices posted in your lobby. Know your zone so when an evacuation announcement is made you'll be ready to relocate to safety!
CHECK YOUR LOBBY FOR YOUR ZONE OR "KNOW YOUR ZONE" ON WWW.NYC.GOV!
Sample: